Top People
Regional Services
We Deliver
Partnering in Reliable Projects
TEiC Construction Services has been delivering high quality outage and maintenance services to power generation and processing plants around the country for more than 20 years, performing successfully under the most challenging turnarounds and maintaining the tightest budgets—and always with an unwavering focus on the safety of every person on the job site. No wonder TEiC has earned an outstanding record of repeat business from many of the largest and most sophisticated utilities and plants around the country.
Highly Experienced, Highly Visible Industry Experts at Your Service
The heart of the world-class capabilities we deliver to our clients starts with our seasoned project management teams, expert individuals well-known and highly respected in the industry for their plant knowledge, skill, and reliability, and well used to working together in sync, taking hands- on control of the project, building client trust and delivering an optimum, high quality result on every job site. And, with our national footprint and experienced worker support resources, we are able to get ramped up quickly with the right people for every labor position, every time.
Expert Pre-Planning, with 3D Modeling Available
Going a step beyond even the most detailed preparatory pre-job actions, TEiC is well-known for the availability of its formal Pre-Planning service, especially for our ongoing Alliance clients. In this unique service, our proven group of highly experienced field engineers provides a unique, 3D-modeling driven analysis that helps identify hidden challenges and gives your project an even greater degree of surety.
We are here for you and want to be your go-to resource for unexpected weather Impact on your equipment.
Turnkey Services for Major Projects
We understand our most important asset is our people, a team with over 80 years of experience in planning and executing large utility and industrial projects. TEiC Project Services has extensive market knowledge which enables us to understand and customize your project goals. Our team provides comprehensive skills to bring together design, procurement, planning and scheduling, construction execution, and support throughout commissioning and first operation.
TEiC Project Services focuses on open shop, large scale, and/or long duration construction projects for new or existing facilities. These large projects are further distinguished by their need for detailed planning,  fully integrated scheduling, monitoring, reporting, and active risk management.
TEiC's history of successful projects is the result of detailed planning and diligently working every aspect of the plan. From initial estimating through commissioning and project close out, our people excel at planning and executing projects.
Tools for Planning and Reporting
TEiC Project Services starts the planning process with developing a comprehensive project and construction management blueprint. Some of the key elements include:
Work Breakdown Schedule (WBS)– Defining the total scope of work in logical sequence
Division of Responsibility (DOR)– Defining how work is split between organizations
Primavera P6 schedule that is logically tied and resource loaded
EVM charts for illustrating and reporting schedule progress (plan vs actual)
Risk matrix identifying significant project risks and planned mitigation
Project Safety, Quality, and Procurement plans
Web Based Deviation Management System (DMS) for documenting and managing project changes
Document Control Automatic Processing System (DCAP) for receipt, submittal, approval and recording all project drawings, specifications, and other documents
New and Retrofit Boilers
Gas Conversion and Additions
HRSG
Distributed Energy/Combined Heat & Power
Air Quality Control Systems
Waste-To-Energy & Bio-Power
Dewatering and Wastewater Treatment
Bottom Ash Conversion
Combustion Coal Residual Recycling
Steam, Gas, and Process Piping
Tanks, Silos, and Stacks
A wide variety of services optimizing a wide variety of equipment
TEiC provides on-site outage services, installation, alteration, mechanical repair and maintenance services for a broad selection of steam generation equipment, regardless of make or model. These include:
Steam Generation Equipment
Pressure Parts
Burners/Stokers
Piping
Insulation/Lagging
Scrubbers
Precipitators
Ductwork/Casing/ Hoppers
Steel/Walkways
Air Heaters (Regenerative and Tubular)
Evaporators
Fans/Pumps
Conveyors
Feedwater Heaters
Condensers
Selective Catalytic Reduction Systems (SCRs)
Rotating Equipment
And More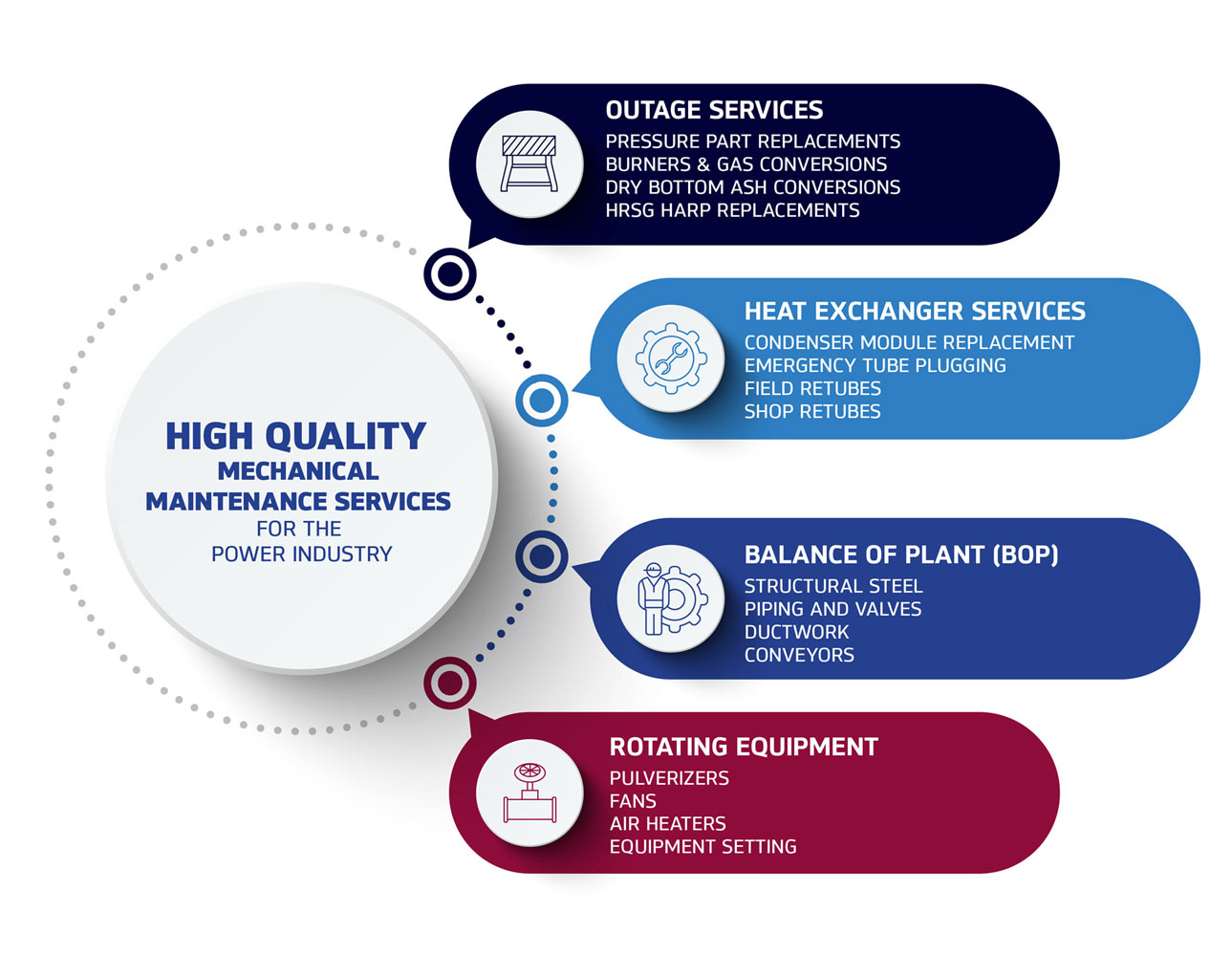 TEiC has a proven track record of safety, on-time completion, and customer satisfaction. With our high standards of quality and safety, you can count on TEiC to meet all your requirements of new or existing installations. The Incident Free work model is based on 3 steps:

High Quality, Experienced Resources Near Your Location
TEiC operates as a national company with strong regional focus. In conjunction with our sister companies, we have service centers and capabilities around the country, including Texas, Pennsylvania, South Carolina, Missouri, Kentucky, and California, so we are always close by to most major industrial/power centers.
You're Backed by the Substantial Resources of BPI.
You're Backed by the Substantial Resources of BPI.
TEiC is part of Babcock Power Inc., an international company with multiple specialized business units all working independently and together as needed to best meet customer needs. For example, as noted, we often work in conjunction with our sister companies BTA and Vogt, as well as do work on equipment featuring other high quality Babcock nameplates such as Riley Power, TEi and Struthers Wells.
Contact TEiC Today For on Schedule, on Budget, Smooth-running Outage or Expert Repair. Find Out More About Putting TEiC Expertise to Work For You During Your Next Outage or Maintenance Need.
For Craft Job Inquiries Please Contact:
TEiC Heat Exchanger Services