Over a Century of High-Quality Pressure Parts and Services for All Your Boiler & Steam Generating Needs to Improve Performance and Extend Boiler Life
Drawing upon a full century of experience and expertise, Boiler Tube Company of America (BTA) manufactures replacement pressure boiler components and related auxiliary industrial boiler parts for all sizes and styles of boilers, regardless of original OEM. Serving thousands of customers around the country, BTA has earned the trust of professionals in the power generation industry, as well as those in process industries including pulp and paper, petrochemicals and oil and gas, and other operators looking to extend the life and improve the performance of their existing boilers.
Nearly unique in the industry, BTA delivers a true Buy American solution with our ASME certified boiler fabrication shop in Lyman, South Carolina and specialty tubing shop in Wellford, South Carolina. We maintain a huge inventory of boiler tubing, and can respond quickly to any emergency need, delivering the expertise to help get your facility back to full operation quickly in any circumstance. Whether emergency or routine, we are known for our knowledgeable, user friendly, cooperative service and long-term, ongoing partnership outlook.
ASME Certified Pressure Parts & Boiler Tube Welding — Right in the USA!
Spiral Fin Tubing & Weld Overlay Capabilities 
With our spiral finning machine and in-house capabilities, we are able to supply a wide variety of spiral finned tubing assemblies to meet customer needs, even on an emergency basis. Tubes are available in a wide variety of diameters and wall thicknesses, and in materials including carbon, low alloy and stainless steel.
Another BTA specialty is our capability to perform weld overlays on tubes, using a wide variety of protective alloys, providing substantial protection for tubes in high corrosion and erosion areas such as panel walls and soot blower lanes. Our unique patented weld overlay full-function robotic system features multiple torches, high reliability and repeatability for full-fusion overlay.
Vast Inventory of Straight Tubes
On behalf of our customers, BTA maintains one of the largest and most extensive inventories of straight tubes in the United States, housed safely and conveniently in our state-of-the-art, fully computerized 700,000 cubic foot warehouse and waiting for your call. Our stock is constantly changing, so we might have what you need, ready for immediate shipment to your facility—just check the link below for today's list, call 1-833-BTA-TUBE (833-282-8823) or contact btatube@boilertubes.com.
High Quality Products and Services For All Your Boiler & Steam Generating Needs
As a fully integrated fabricator and boiler equipment company, BTA is uniquely qualified to work on any OEM boiler or steam generator and collaborate with engineering to improve desired performance.
HARPS
Heat Recovery Steam Generator (HRSG) Harps
Gas Skids
And More
In Addition, to Help Boost the Performance and Longevity of Your Steam Generation Equipment, BTA Delivers In-House Engineering Services and Capabilities Including:
Performance/Process Design
Flow Modeling
3-D Modeling
Stress Analysis
Finite Element Analysis
Piping Design
Structural/Stress Analysis
And More
Made in the USA
Lyman, South Carolina|Wellford, South Carolina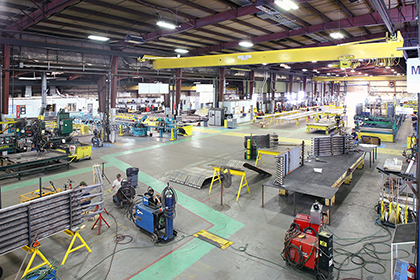 You're Backed by the Substantial Resources of BPI.
Boiler Tube Company of America is part of Babcock Power Inc., an international company with multiple specialized business units all working independently and together as needed to best meet customer needs. For example, BTA might team up with sister companies Vogt Power International and TEiC Construction Services to provide a turnkey solution, including needed engineering and installation on a particular boiler project. We often call upon boiler OEM Riley Power to expand our capabilities, and also use our unique Spiral Fin Tubing equipment to provide specialized tubes for sister company Vogt Power International, the recognized experts in Heat Recovery Steam Generators (HRSGs). And, we proudly sell IMTEC boiler doors, the industry's most sophisticated boiler access solution.
Contact BTA
Whether you need straight or in-kind tube replacement, or a solution that will help boost the performance and longevity of your boilers and related equipment, contact Boiler Tube Company of America any time.
864-439-4489

800-845-3052 (Toll Free)

833-BTA-TUBE (24/7 Tubing Inventory)